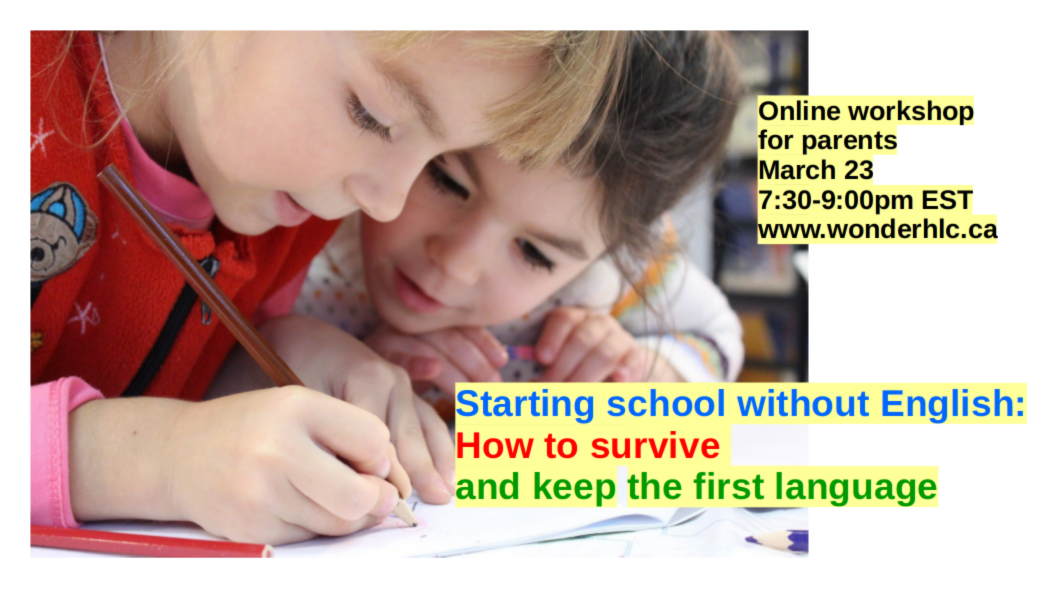 Upcoming workshop
Starting school without English - How to survive and keep the first language
Tuesday March 23, 2021, 7:30pm-9:00 pm EST, online on Zoom
For various reasons, some children start school in Canada being fluent in their heritage language, but with no or very little knowledge of English. One obvious difficulty these children have is adjusting not only to a new environment, but also to a new language. It typically takes several months for children to start communicating in English; for some, this transition seems easy, while for others, it may cause daily tantrums. The other, less obvious, difficulty is to realize that English should be added to their heritage language, not replacing it. It often happens that as soon as children gets comfortable in the new language, they keep using it even at home, at the expense of the "old" language. Unfortunately, sometimes parents concentrate so much on English that the child quickly loses the heritage language, or, on the opposite, ignore English, hoping it will "come by itself", and then it takes a long time for the child to catch up with peers. Loss of heritage language is especially bad for the child in this situation, because it leads to lack of age-appropriate command of any language. We will discuss what happens when a child starts learning a new language in this setting, and how to work toward balance between the new and the old languages.
The workshop is conducted by Dr. Marina Sherkina-Lieber, Ph.D.
Participation is $15 per family/device. To register:
a) CLICK HERE to register via Eventbrite
For more information, email wonderheritagelanguage@gmail.com or call +1(647)891-4507.
UPCOMING WORKSHOPS
bilingual children heritage language second language balance between languages